MONTH OF CHALLENGES
C'est reparti pour le Month Of Challenges sur le forum The Lilypad. Comme tous les ans, je me lance encore dans ce défi un peu fou mais le prix en vaut le coup : un coupon de $20 dans toute la boutique et une place en tant que Polly (membre de l'équipe créative de la boutique car oui j'y crois encore).

1er janvier : le « blind scrap«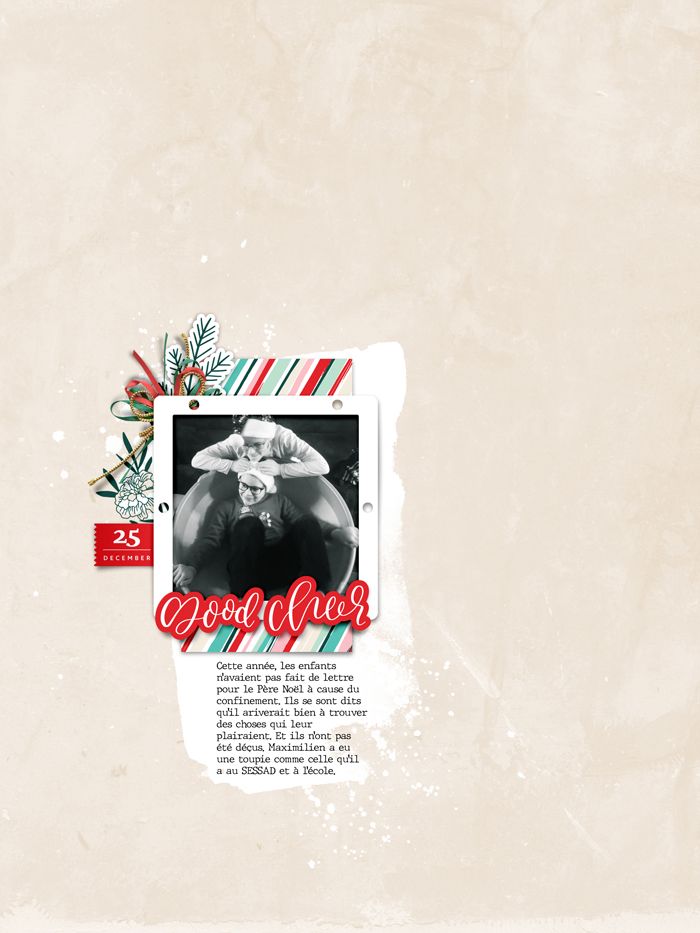 credits :
Sahin Designs : Good times . stamps ; Home for the holidays . elements, papers ; Joyous . elements
---
2 janvier : Why I scrap ?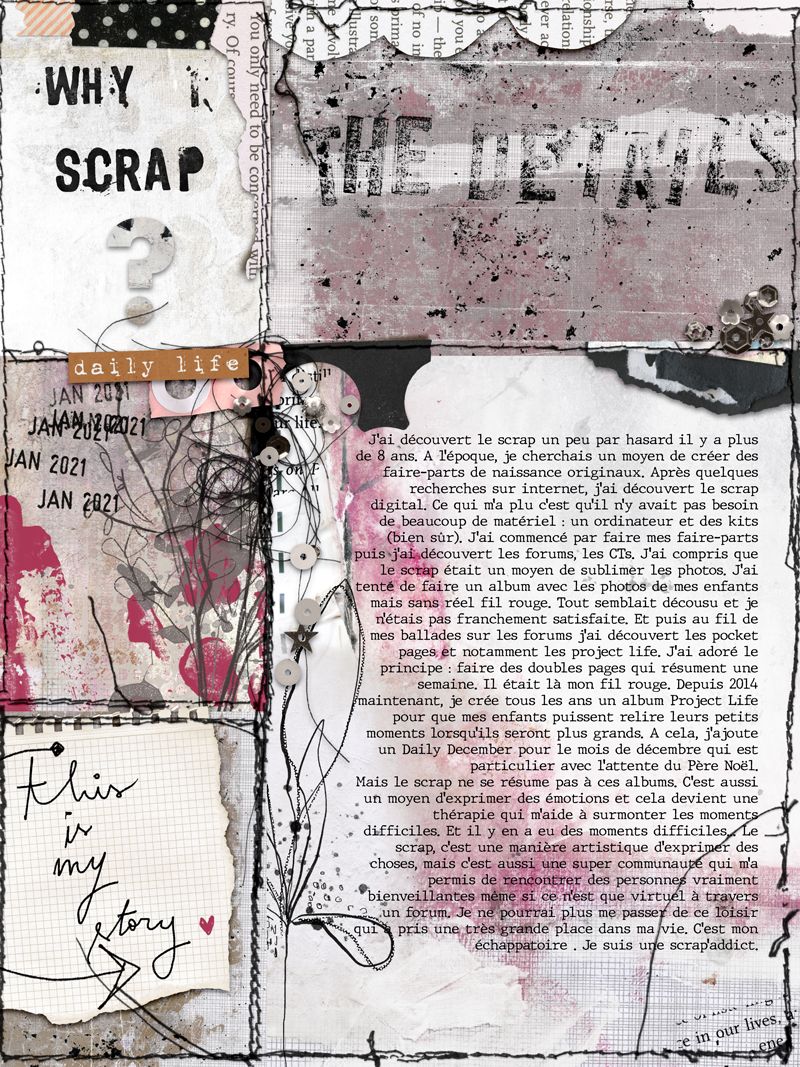 credits :
Lynne-Marie, Little Butterfly Wings, Paula Kesselring, Rachel Jefferies : M3 November '19 Document Daily Joys
Rachel Jefferies & Micheline Lincoln Designs : Welcome every moment . elements
Rachel Jefferies : Captivating Basics Stamped . alpha ; Messy Machine vol5 ; Messy Marks Dates 2021 ; Messy stitches 4 ; Messy thread 1 ; Pocket Art Signature kit 8 ; Painted tape bits ; Pocket Art Signature kit 2 ; Pocket Art Signature kit 3
---
Les produits utilisés
1er janvier :
Good times . stamps https://the-lilypad.com/store/Good-Times-Stamps-SD.html
Home for the holidays . elements https://the-lilypad.com/store/Home-for-the-Holidays-Elements-SD.html
Home for the holidays . papers https://the-lilypad.com/store/Home-for-the-Holidays-Papers-SD.html
Joyous . elements https://the-lilypad.com/store/Joyous-Elements-sahin.html
---
2 janvier
M3 November '19 Document Daily Joys https://the-lilypad.com/store/Mixed-Media-Monthly-Document-Daily-Joys-Nov.-19.html
Welcome every moment . elements https://the-lilypad.com/store/Welcome-Every-Moment-Elements.html
Captivating Basics Stamped . alpha https://the-lilypad.com/store/Captivating-Basics-Stamped-Alpha-02.html
Messy Machine vol5 https://the-lilypad.com/store/Messy-Machine-Stitches-05.html
Messy Marks Dates 2021 https://the-lilypad.com/store/Messy-Marks-Date-Stamps-2021.html
Messy Machine stitches 4 https://the-lilypad.com/store/Messy-Machine-Stitches-04.html
Messy thread 1 https://the-lilypad.com/store/Messy-Threads-1.html
Pocket Art Signature kit 8 https://the-lilypad.com/store/Pocket-Art-Signature-Kit-8.html
Painted tape bits https://the-lilypad.com/store/Painted-Tape-Bits.html
Pocket Art Signature kit 2 https://the-lilypad.com/store/Pocket-Art-Signature-Kit-2.html
Pocket Art Signature kit 3 https://the-lilypad.com/store/Pocket-Art-Signature-Kit-3.html
---
Merci de votre visite.
😉